Free Candy is an alternate universe involving the main cast from Dark Matter travelling around in a van together. Free Candy usually refers to anything done as a group including parodies, wacky antics, and usually just poking at whatever happens to cross their path. The theme song of the group is "Green and Purple" by Kritikal.
The Crew
The Driver
The Backseat Driver
The Ninja Fairy-tale
The Hitchhikers
The Gr8 Split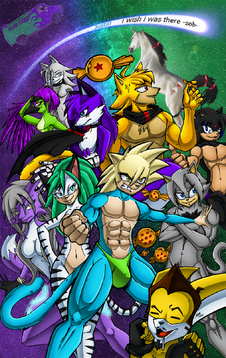 The group used to be bigger than what it is now. Until one day (sometime in 2012) some shit went down and half of the group left. The group has also gone back and forth between member counts a bit since then.
Removed Characters
Silver the Wolf
Epsi
Skel the Tiger
Azoth Sokima
Kaoz
Tokei Time
Zack
Justin
Seb the Seb
Group Projects
Free Candy has been involved with many things including:
Lots and lots of group art.
Ad blocker interference detected!
Wikia is a free-to-use site that makes money from advertising. We have a modified experience for viewers using ad blockers

Wikia is not accessible if you've made further modifications. Remove the custom ad blocker rule(s) and the page will load as expected.